Creation Process and Conceptual Design
The new album "STEP INTO THE FUTURE" by George Bellas.
Released January 23, 2009 on Lion Music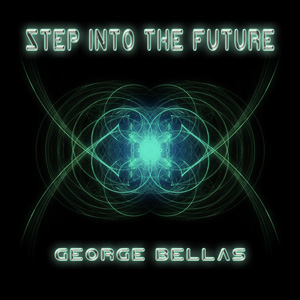 An epic 76 minute song. Futuristic, Dynamic, Explosive & Ethereal
The ever prolific GEORGE BELLAS is back, less than a year on from his previous solo album 'Planetary Alignment' with his boldest and most progressive body of work to date in "STEP INTO THE FUTURE". The name George Bellas is synonymous with stretching musical boundaries and human imagination with his musical compositions. This new album is ultra-modern in style and really reaches out to a futuristic sound in its compositional sense and outlook. The album ranges from the explosive to the ethereal with emotionally stirring segments. Adding to its uniqueness "STEP INTO THE FUTURE" consists of just one song that is 76 minutes in length.
OVERVIEW
"STEP INTO THE FUTURE" consists of just one 76 minute song. The album was composed as one long continuous piece and is by no means several songs merged together after the fact. The album was composed in a 6 week period beginning on December 7th, 2007 and was completed in the middle of January 2008. After the entire album was written George spent the next few months recording the guitar, bass, keyboards and scratch drum tracks. After all that was recorded drummer extraordinaire Marco Minnemann was called upon to record the drum parts. George sent Marco the demo recording and all of the drum scores. When Marco first received the album demo his reaction was, "I received the CD, but is this right? There is only one song on it!"
ALBUM DETAILS
"Step Into The Future" is ultra-modern and progressive in style and very elegantly displays a vast dynamic range of sound. It is an extreme showcase of George's penchant for highly unique, creative writing. There are melodies on the album that are pin-drop soft, subdued and spine-shivering, and then there are moments of bombastic explosiveness that reveal an entirely different madman type personae. Once again George reaches for the unexplored and uses compositional techniques not used on his previous releases and continues to forge new ground. And while there are guitar parts that were near impossible to play, the album is not a means to showcase lead guitar playing, but rather a vehicle for an extreme sonic journey through composition.
Polymeters, Interval Sets, Twelve-Tone Serialism, Quartal Harmony, Quintal Harmony, Polychords and Bellas's drenched in feeling guitar playing all greatly contribute in setting him apart from the horde and very much put him in a league of his own.
THE WRITING PROCESS
During the six weeks that the album was composed George maintained what is best described as a creative writing frenzy. Every day that passed within that six week period no less than several pages of music were written. He would wake up many times from sleeping with modernistic new ideas that he wanted to incorporate. And as per George's usual work flow, everything was composed using standard music notation before ever playing a note on an instrument. Fresh new scales and unique chords were written using countless permutations of interval sets, which formed the basis of the melodic and harmonic content. All the eccentric rhythms on the album, of which include poly-meters, poly-rhythms and odd meters, were also written specifically just for the album. There are quite a few sections were the drums are in one time signature, the bass in another, and other instruments within their own meter, which created a real mind melting experience. At the onset it was not George's intention to write a 76 minute song, but as the writing process continued and the song grew, George later realized that what he had growing was the most behemoth piece of music that he had ever written.
EQUIPMENT DETAILS
On "Step Into The Future" Bellas used a wide variety of guitars, amps, percussion and keyboard sounds that created a really diverse range of sounds. Some of the equipment used:
Daphne Blue '57 Fender Stratocaster
Candy Apple Red '57 Fender Stratocaster
Vintage White '57 Fender Stratocaster
Natural Ash American Standard Fender Stratocaster
Silver '80 Gibson Flying V
Vintage White Gibson Flying V
Gold 60's Gibson Les Paul
Ovation Acoustic
Marshall Amps (various models) each loaded with an assortment of NOS tubes.
Focusrite Red Series Mic Preamp
Apogee Converters
Apple Computers
THE APPROACH
The approach for "Step Into The Future" was to reach beyond current boundaries and try new unexplored ideas rather than rehashing cliche formulas. There was an emphasis on neoteric compositional techniques, lyrical melodies and utilizing a wide dynamic range mixed with an abundance of guitar saturated with intense feeling. This approach was very much a success. The end product displays a culmination of a vast amount of compositional techniques that are fresh, imaginatively assembled and chock-full of emotion.