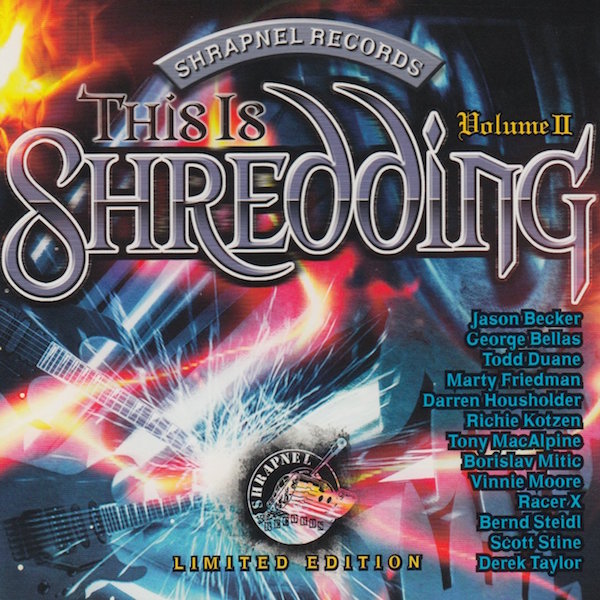 This Is Shredding
Released June 30, 2009
Order Album
Description
This Is Shredding
SH 1202 - The Shrapnel sound has survived nearly three decades and many of today's great young metal bands got their inspiration from the artists on this record and the labels' back catalog is enjoying a renaissance of interest in this important guitar oriented music. This album is a limited edition collectors item that features notable Shrapnel Records artists.
Released Worldwide
Shrapnel Records
Songs
Y.R.O.
The Thinking Machine
Sky Rider
Images
Ripped To Shreds
Overseas Evolution
Acid Lips
Stand Yer Ground
Nuthin' But Pickin'
Country Boy With Rope
Slap Crackle & Pop
Death of Ludwig II
Running Time 46:54
Credits
Jason Becker
George Bellas
Todd Duane
Marty Friedman
Darren Householder
Ritchie Kotzen
Tony MacAlpine
Borislav Mitic
Vinnie Moore
Racer X
Bernd Steidl
Scott Stine
Derek Taylor
Written by Various Artists
Produced by Mike Varney
Mixed by Various
Mastered at Prarie Sun
Artwork by Dave Stephens
Released on Shrapnel Records
© 2009 Shrapnel Records
℗ Varney Metal Music, BMI
Thanks
Thanks to Mike Varney and all at Shrapnel Records. And one more very important gigantically heartfelt thank you to my family, friends, and fans all over the world.