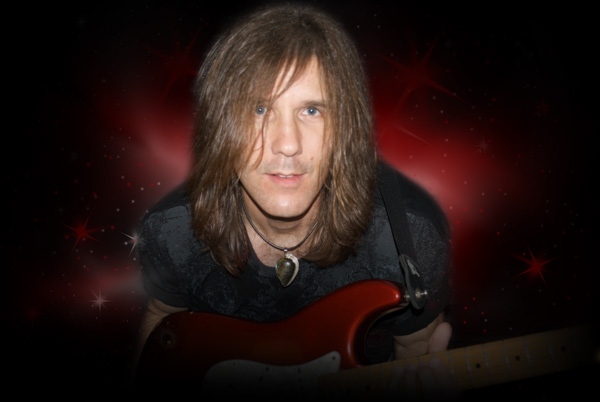 The Dawn Of Time
In the beginning there was nothing... And then there was light!
Fifteen billion years later George Bellas presents to you an epic collection of instrumental songs inspired by the universe, how it was created, and from where and what it came from.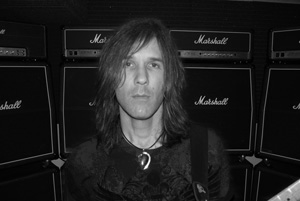 George Bellas - Guitar, Bass and Keyboards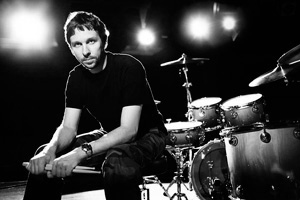 Marco Minnemann - Drums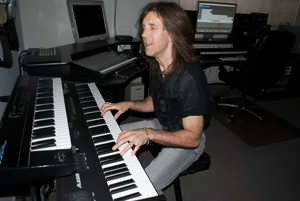 Working through keyboard parts.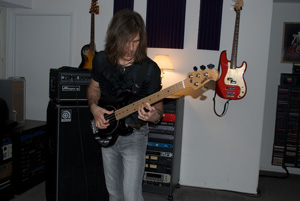 Laying down the low end with a Stingray.
Gear Used on the Album
For the recording sessions, George used an assortment of gear that includes; Strats, Les Pauls, Flying V's, a Musicman Stingray bass, a Precision bass, Marshall amps, an Ampeg SVT Classic bass amp, Sure SM57 and Sennheiser MD421 Microphones, a Focusrite Red Series Mic Pre, Apogee converters, a custom microphone isolation box, Tube Screamers (Keeley modified and some stock), custom designed pedals by Nokina Design, Coleman Audio Monitoring System, Mogami cables, Apple computers, Logic pro software and a extensive sound library.
George used a Musicman Stingray bass and a Fender Precision hybrid bass for the recordings. The bass guitar was recorded direct out of an Ampeg SVT and the cabinet (an Ampeg 6x10 with Horn) was also mic'ed using a Sennheiser MD421. A custom built isloation box was used to enclose the microphone which yielded a more dynamic tone with less room reflections.
Composition Style
The material on this album is a stylistically diverse collection of shorter 3-5 minute songs with a total running time of 80 minutes. Some of the songs are in a complex progressive style, and others are in a more traditional neoclassical style. An extreme amount of attention went towards obtaining the highest quality sound for each instrument. The guitar, bass, drums and keyboards all sound clear, open, dynamic and very organic. And once again, Marco Minnemann recorded some absolutely phenomenal drum performances.
The Dawn Of Time was released July 16, 2010 on Lion Music.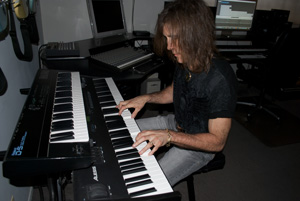 Contemplating chord voicings.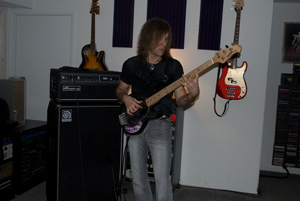 Playing through an Ampeg SVT.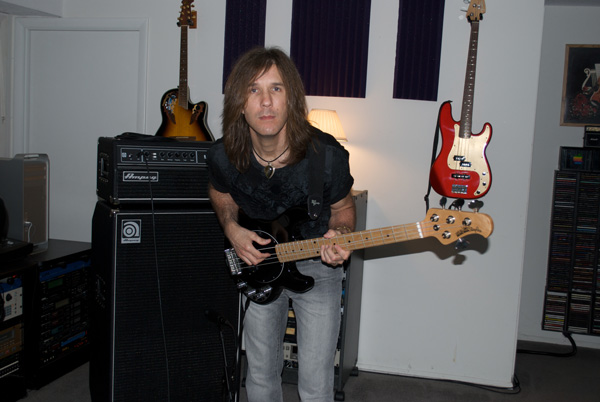 Playing through an Ampeg SVT.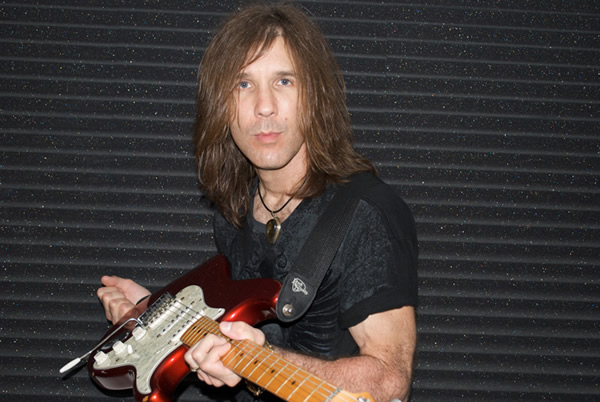 Using the beloved candy apple red strat.
Inspiration
The Dawn Of Time was inspired by the writings and lectures of great physicists of both past and present; Albert Einstein, Carl Sagan, Michio Kaku, Stephen Hawking, Amy Mainzer, and Brian Green, to name but a few. "Thanks to the great minds of science for their achievements and ongoing research regarding the origin, present state, and fate of the universe we live in, and from them, I have gained invaluable insight and an enormous thought provoking source of inspiration that fuels my imagination each and every day."- G.B.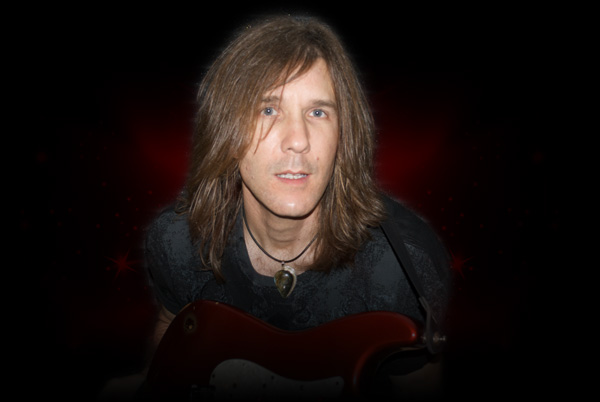 The Dawn Of Time
Composed and produced by George Bellas.
Published by Bellas Tune Factory, BMI
International Copyright Secured.